Sports
Qatar vs Ecuador – FIFA 2022 World Cup Live Score
On Sunday, the hosts of the tournament Qatar will play Ecuador in its opening match. The magnificent 60,000-capacity Al Bayt Stadium in Al Khor, north of Qatar's capital Doha, will host the championship game and opening ceremony of the first-ever Middle Eastern sporting event. In order to maintain the custom of the host country beginning the competition, the event has been moved up by one day.
Qatar:
Qatar will be participating in the World Cup for the first time. Qatar's national squad, known as the Maroons, rose from 113th to 50th in the FIFA rankings after a spate of victories in recent years, including an unexpected first-ever Asian Cup victory in 2019. The group also participated as a guest nation in the Gold Cup of the Confederation of North, Central America, and Caribbean Association Football last year, when they reached the semifinals.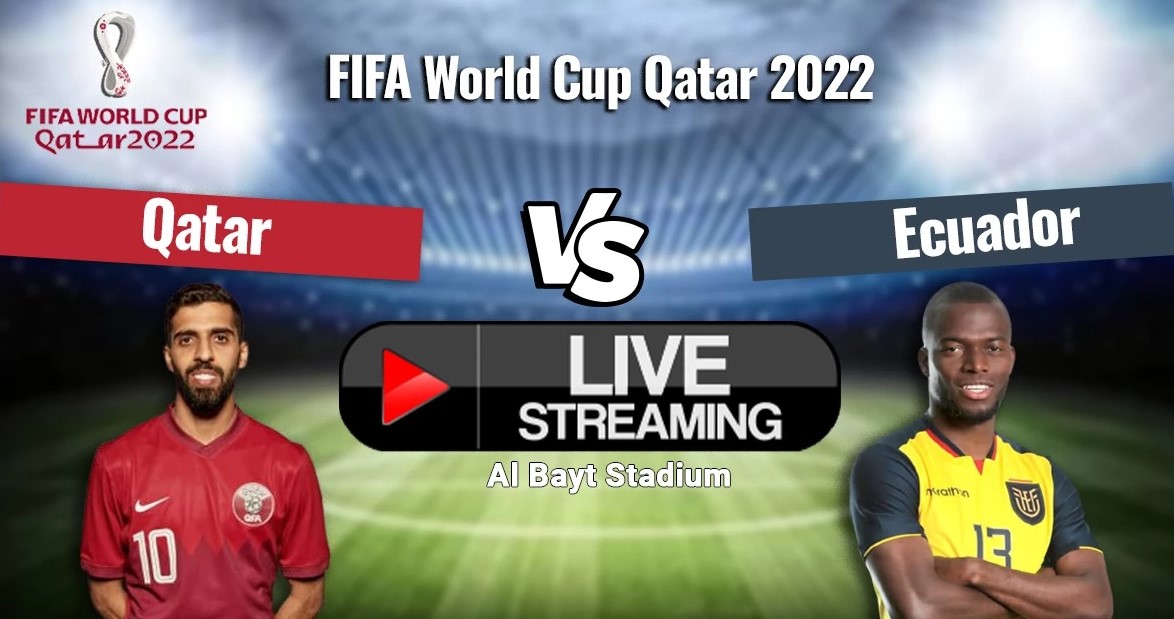 The Maroons, who are coached by Felix Sanchez of Spain, are in a group with Senegal and European powerhouses the Netherlands. They seek to advance to the next round. After a lengthy training camp in Marbella, Spain, the squad returned to Doha seven days before the game.
Akram Afif, a dangerous left flank, is the man to watch. The 25-year-old, who represents Al Sadd in Qatar, was crowned Asian player of the year in 2019 after helping his country win the continental championship with one goal and 10 assists.
Ecuador:
The Ecuador squad known as La Tri, with an average age of 25, was the youngest team to qualify from South America and one of the youngest in the competition.
The 44th-ranked Ecuador had a strong qualification campaign, finishing fourth behind Brazil, Argentina, and Uruguay while only losing once at home. They defeated Chile by a score of 4-1, Uruguay by a score of 1-0, Colombia by a score of 6-1, and Brazil and Argentina by a score of 0-0.
Moises Caicedo, a player for English Premier League team Brighton & Hove Albion, is the squad's star. The box-to-box midfielder, who is 21 years old, gives the youthful squad steadiness and defense. He must have his efficient passing and cutting runs neutralized if the Maroons are to score any points against the La Tri. Additionally, keep an eye out for Gonzalo Plata, a dynamic winger who competes for Real Valladolid in Spain.
La Tri, captained by Argentine Gustavo Alfaro, who frequently plays in the 4-4-2 system, will want to improve upon their best-ever World Cup performance, which came in 2006 when they advanced to the round of 16.
Qatar vs. Ecuador head-to-head record:
The two teams will face off for the fourth time in Group A; the first three meetings between Qatar and Ecuador all took place in the Middle Eastern country itself. The head-to-head record between Qatar and Ecuador was evenly balanced, with one win for each team and one tie. Qatar prevailed 4-3 in their previous encounter, which was a friendly match in October 2018.
The majority of the goals came in the most recent match between the two teams in October 2018, when Qatar prevailed 4-3 at the Jassim Bin Hamad Stadium in Doha after a seven-goal thriller. On that occasion, Almoez Ali and Enner Valencia both contributed to their own braces. They are also likely to play again on Sunday alongside fellow 2018 goal scorer AkramAfif for Qatar.
The other two encounters between the two teams took place within a week of one another in 1996, with the first one finishing in a 1-1 tie thanks to a last-second equalizer by Abdul Aziz Hassan that offset Eduardo Hurtado's goal. One week later, Hurtado scored once more for Ecuador, this time as part of a winning effort that saw Angel Fernandez score the other goal in a 2-1 victory at Al Asad.
Qatar wins: 1
Ecuador wins: 1
Draws: 1
Qatar goals: 6
Ecuador goals: 6
Qatar vs Ecuador World Cup Live 2022 Time & Venue
The FIFA World Cup 2022 match between Qatar and Ecuador will kick off on November 20. The opening Group A match will kick off at 9:30 PM (India time) at the 60,000-seat Al Bayt Stadium, located 40 kilometers north of Doha.
Qatar vs Ecuador World Cup Live Streaming
In India, Sports18 and Sports18 HD will broadcast the Qatar vs. Ecuador game live. Jio Cinema's app and website will also provide free live streaming of the match. According to some sources, Voot will also live broadcast the game.
Qatar vs Ecuador World Cup Live 2022 Prediction
The previous four Fifa World Cup opening games have resulted in a total of 17 goals, or 4.25 per game. Qatar has won all three of its previous matches played at Al Bayt Stadium by a cumulative score of 9-0. Nevertheless, Ecuador has won four of its past ten games at the FIFA World Cup, and its most recent group encounter against France in 2014 ended in a scoreless tie.
Qatar will find it challenging to compete head-to-head with the South American team on November 20. Even with a home-field advantage, Qatar will have a difficult time defeating Ecuador. Ecuador is expected to win easily to start the competition with a final score of 3-0 or 3-1 in their favor.