Games
FIFA World Cup 2022 Match Schedule, Stadium, Squads, Groups & Ticket
Finally, the most viewed and attended event is underway! In just a few short months, as the football frenzy sweeps the world, the 32 teams that make up the tournament for the world's favorite sport, football, will face off against one another. From November 20 to December 18, the Middle East will serve as the host of the FIFA Football World Cup. 32 teams are competing to advance to the knockout stages of the 2022 FIFA World Cup, which got underway on Nov. 20.
Each group will only have the top two teams move on. The South Americans are already in the lead for one of the top two slots after Ecuador made history by defeating Qatar, the host nation, in the opening match. Similar to former tournaments, the 2022 World Cup will have a 32-team group stage to reduce the field to 16 teams; only the top two teams from each of the eight groups advance.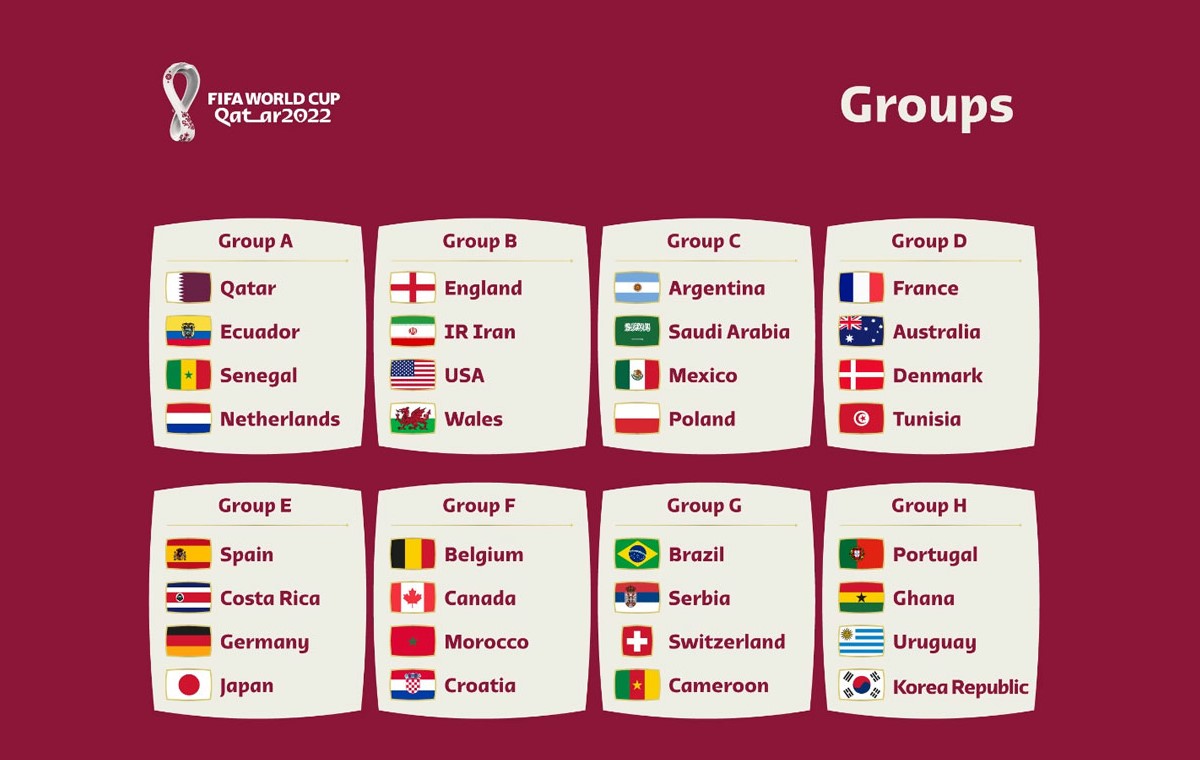 FIFA World Cup 2022 Groups:
Group A: Qatar, Ecuador, Senegal, Netherlands.
Group B: England, Iran, USA, Wales.
Group C: Argentina, Saudi Arabia, Mexico, Poland.
Group D: France, Peru/Australia/UAE, Denmark, Tunisia.
Group E: Spain, New Zealand/Costa Rica, Germany, Japan.
Group F: Belgium, Canada, Croatia, Morocco.
FIFA World Cup 2022 tournament format:
The 16 teams from the group stage will continue on to the single-game knockout phases (Round of 16; quarterfinal; semifinal; final); the winner advances while the loser is eliminated. Every knockout-round match must have a winner on the day, and if extra time or penalty kicks are required to decide the winner, they will be employed.
Group stage: 20-Dec. 2
Round of 16: Dec. 3-6
Quarterfinals: Dec. 9-10
Semifinals: Dec. 13-14
Third-place match: Dec. 17
Final: Dec. 18
Complete match schedule of World Cup 2022:
The event planners were able to optimize the match schedule for the convenience and benefit of spectators, teams, the media, and the global audience because Qatar has a compact nature, allowing them to assign group stage games for the first time ever to a stadium and kick-off time for each matchday after the final draw.
A total of 64 games will be played to decide the winners of the FIFA World Cup Qatar 2022. See when and where the action will take place.
Group A match schedule
| | | | |
| --- | --- | --- | --- |
|          Date |                   Match |          Time (ET) |             Stadium |
| Sun, Nov. 20 | Qatar 0, Ecuador 2 | | |
| Mon, Nov. 21 | Senegal vs. Netherlands | 11 a.m. | Al Thumama |
| Fri, Nov. 25 | Qatar vs. Senegal | 8 a.m. | Al Thumama |
| Fri, Nov. 25 | Netherlands vs. Ecuador | 11 a.m. | Khalifa Int'l |
| Tues, Nov. 29 | Netherlands vs. Qatar | 10 a.m. | Al Bayt |
| Tues, Nov. 29 | Ecuador vs. Senegal | 10 a.m. | Khalifa Int'l |
 Group B match schedule
| | | | |
| --- | --- | --- | --- |
|           Date |               Match |       Time (ET) |          Stadium |
| Mon, Nov. 21 | England vs. Iran | 8 a.m. | Khalifa Int'l |
| Mon, Nov. 21 | USA vs. Wales | 2 p.m. | Ahmad Bin Ali |
| Fri, Nov. 25 | Wales vs. Iran | 5 a.m. | Ahmad Bin Ali |
| Fri, Nov. 25 | England vs. USA | 2 p.m. | Al Bayt |
| Tues, Nov. 29 | Wales vs. England | 2 p.m. | Ahmad Bin Ali |
| Tues, Nov. 29 | Iran vs. USA | 2 p.m. | Al Thumama |
Group C match schedule
| | | | |
| --- | --- | --- | --- |
| Date | Match | Time (ET) | Stadium |
| Tues, Nov. 22 | Argentina vs. S. Arabia | 5 a.m. | Lusail |
| Tues, Nov. 22 | Mexico vs. Poland | 11 a.m. | Stadium 974 |
| Sat, Nov. 26 | Poland vs. S. Arabia | 8 a.m. | Education City |
| Sat, Nov. 26 | Argentina vs. Mexico | 2 p.m. | Lusail |
| Wed, Nov. 30 | Poland vs. Argentina | 2 p.m. | Stadium 974 |
| Wed, Nov. 30 | S. Arabia vs. Mexico | 2 p.m. | Lusail |
Group D match schedule
| | | | |
| --- | --- | --- | --- |
| Date | Match | Time (ET) | Stadium |
| Tue, Nov. 22 | Denmark vs. Tunisia | 8 a.m. | Education City |
| Tue, Nov. 22 | France vs. Australia | 2 p.m. | Al Janoub |
| Sat, Nov. 26 | Tunisia vs. Australia | 5 a.m. | Al Janoub |
| Sat, Nov. 26 | France vs. Denmark | 11 a.m. | Stadium 974 |
| Wed, Nov. 30 | Tunisia vs. France | 10 a.m. | Education City |
| Wed, Nov. 30 | Australia vs. Denmark | 10 a.m. | Al Janoub |
 Group E match schedule
| | | | |
| --- | --- | --- | --- |
| Date | Match | Time (ET) | Stadium |
| Wed, Nov. 23 | Germany vs. Japan | 8 a.m. | Khalifa Int'l |
| Wed, Nov. 23 | Spain vs. Costa Rica | 11 a.m. | Al Thumama |
| Sun, Nov. 27 | Japan vs. Costa Rica | 5 a.m. | Ahmad Bin Ali |
| Sun, Nov. 27 | Spain vs. Germany | 2 p.m. | Al Bayt |
| Thurs, Dec. 1 | Japan vs. Spain | 2 p.m. | Khalifa Int'l |
| Thurs, Dec. 1 | Costa Rica vs. Germany | 2 p.m. | Al Bayt |
 Group F match schedule
| | | | |
| --- | --- | --- | --- |
| Date | Match | Time (ET) | Stadium |
| Wed, Nov. 23 | Morocco vs. Croatia | 5 a.m. | Al Bayt |
| Wed, Nov. 23 | Belgium vs. Canada | 2 p.m. | Ahmad Bin Ali |
| Sun, Nov. 27 | Belgium vs. Morocco | 8 a.m. | Al Thumama |
| Sun, Nov. 27 | Croatia vs. Canada | 11 a.m. | Khalifa Int'l |
| Thurs, Dec. 1 | Croatia vs. Belgium | 10 a.m. | Ahmad Bin Ali |
| Thurs, Dec. 1 | Canada vs. Morocco | 10 a.m. | Al Thumama |
 Group G match schedule
| | | | |
| --- | --- | --- | --- |
| Date | Match | Time (ET) | Stadium |
| Thurs, Nov. 24 | Switzerland vs. Cameroon | 5 a.m. | Al Janoub |
| Thurs, Nov. 24 | Brazil vs. Serbia | 2 p.m. | Lusail |
| Mon, Nov. 28 | Cameroon vs. Serbia | 5 a.m. | Al Janoub |
| Mon, Nov. 28 | Brazil vs. Switzerland | 11 a.m. | Stadium 974 |
| Fri, Dec. 2 | Cameroon vs. Brazil | 2 p.m. | Lusail |
| Fri, Dec. 2 | Serbia vs. Switzerland | 2 p.m. | Stadium 974 |
 Group H match schedule
| | | | |
| --- | --- | --- | --- |
| Date | Match | Time (ET) | Stadium |
| Thurs, Nov. 24 | Uruguay vs. South Korea | 8 a.m. | Education City |
| Thurs, Nov. 24 | Portugal vs. Ghana | 11 a.m. | Stadium 974 |
| Mon, Nov. 28 | South Korea vs. Ghana | 8 a.m. | Education City |
| Mon, Nov. 28 | Portugal vs. Uruguay | 2 p.m. | Lusail |
| Fri, Dec. 2 | South Korea vs. Portugal | 10 a.m. | Education City |
| Fri, Dec. 2 | Ghana vs. Uruguay | 10 a.m. | Al Janoub |
 FIFA World Cup 2022, Round of 16
| | | | |
| --- | --- | --- | --- |
| Date | Match | Time (ET) | Stadium |
| Sat, Dec. 3 | 1A vs. 2B | 10 a.m. | Khalifa Int'l |
| Sat, Dec. 3 | 1C vs. 2D | 2 p.m. | Ahmad Bin Ali |
| Sun, Dec. 4 | 1D vs. 2C | 10 a.m. | Al Thumama |
| Sun, Dec. 4 | 1B vs. 2A | 2 p.m. | Al Bayt |
| Mon, Dec. 5 | 1E vs. 2F | 10 a.m. | Al Janoub |
| Mon, Dec. 5 | 1G vs. 2H | 2 p.m. | Stadium 974 |
| Tues, Dec. 6 | 1F vs. 2E | 10 a.m. | Education City |
| Tues, Dec. 6 | 1H vs. 2G | 2 p.m. | Lusail |
 FIFA World Cup 2022, Quarterfinals
| | | | |
| --- | --- | --- | --- |
| Date | Match | Time (ET) | Stadium |
| Fri, Dec. 9 | QF1: 1E/2F vs. 1G/2H | 10 a.m. | Education City |
| Fri, Dec. 9 | QF2: 1A/2B vs. 1C/2D | 2 p.m. | Lusail |
| Sat, Dec. 10 | QF3: 1F/2E vs. 1H/2G | 10 a.m. | Al Thumama |
| Sat, Dec. 10 | QF4: 1B/2A vs. 1D/2C | 2 p.m. | Al Bayt |
 FIFA World Cup 2022, Semifinals
| | | | |
| --- | --- | --- | --- |
| Date | Match | Time (ET) | Stadium |
| Tues, Dec. 13 | QF2 vs. QF1 | 2 p.m. | Lusail |
| Wed, Dec. 14 | QF4 vs. QF3 | 2 p.m. | Al Bayt |
 FIFA World Cup 2022, 3rd Place
| | | | |
| --- | --- | --- | --- |
| Date | Match | Time (ET) | Stadium |
| Sat, Dec. 17 | Semifinal losers | 10 a.m. | Khalifa Int'l |
FIFA World Cup 2022, Final
| | | | |
| --- | --- | --- | --- |
| Date | Match | Time (ET) | Stadium |
| Sun, Dec. 18 | Semifinal winners | 10 a.m. | Lusail |