Apple
14 Pro Max vs S22 Ultra 2023: Price, Key Features & Which Is Better?
14 Pro Max vs S22 Ultra 2023: Price, Key Features & Which Is Better? Both are large, have large batteries, and have superb cameras, but how are they different from one another? The iPhone 14 Pro Max comes with a brand-new, faster A16 CPU, a long-lasting battery, a slew of innovative features, including a screen cutout never before seen on an iPhone called Dynamic Island, as well as a few potentially life-saving ones like SOS via satellite and Crash Detection.
Not to mention an improved camera, the greatest portrait mode video, a new Always On display, and extensive software support from Apple. On the other side, the Galaxy S22 Ultra boasts an integrated S Pen that is perfect for creatives, an unrivaled 10X zoom camera, and all of the power of Android, including features like split-screen multitasking.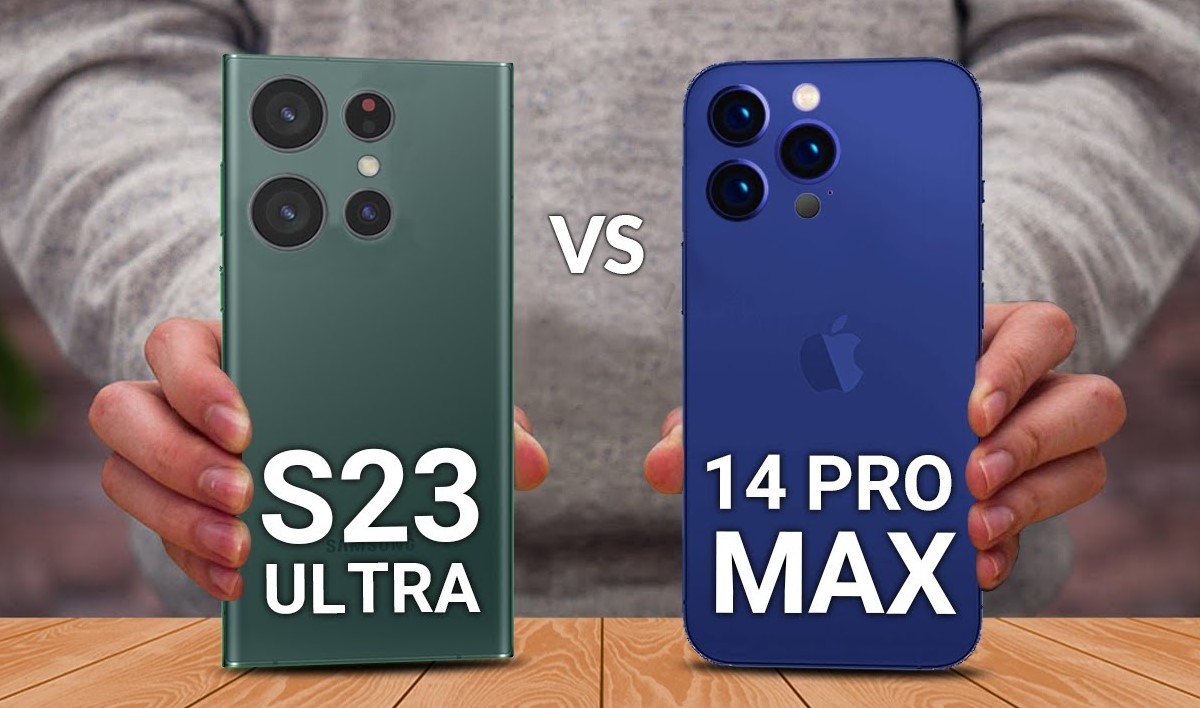 A brief comparison between the Galaxy S22 Ultra vs iPhone 14 Pro Max:
Both large OLED displays provide a 1-120Hz dynamic refresh rate
Galaxy employs a fingerprint scanner, but iPhone features Face ID.
The iPhone app Dynamic Island is special.
Galaxy has three cameras with S Pen-like features, but it also includes a special 10X zoom lens.
Samsung offers quicker charging
Comparable cost
Longer iPhone battery life
14 Pro Max vs S22 Ultra Design and Display
The Galaxy S22 Ultra and iPhone 14 Pro Max are both luxury smartphones in every way; they are both well-built but also unique. The Galaxy boasts sharp corners and a larger aspect ratio than the normal phone, which gives it a distinctive style but lessens its comfort in a pocket. The iPhone is almost the same size, but its edges are rounded. Both are built of glass and metal, with the Galaxy having an aluminum frame and the iPhone having a glossy stainless steel center.
With IP68 water and dust protection, the two are also equally covered, so you won't have to worry if one of them gets wet. The iPhone continues to use its exclusive Apple Lightning connector, while the Galaxy charges using a USB-C port (the iPhone 15, though, might make the switch to USB-C). What is in the box—or, more accurately, what is NOT in the box—should not surprise you either. Both come with a charging wire but neither comes with a charger; you would need to purchase a charging brick separately.
The screen sizes on the iPhone and Galaxy are slightly different at 6.7″ and 6.8″, respectively, so the S22 Ultra does feature a larger display. In addition, it features a marginally greater resolution than the iPhone (1290p vs. 1440p), which is still noteworthy. Of course, the new Dynamic Island on the iPhone is where the Face ID system is located, while the Galaxy opts for a much more unremarkable punch-hole design.
The Dynamic Island is quite ingenious; it functions as a tiny status bar that subtly alerts you to significant events: having battery issues? In Dynamic Island, a little warning appears. Performing music? The waveform is visible, and a long push allows for fast playback.
Running a GPS application? Again, Dynamic Island provides a shortcut. The iPhone employs the most recent M12 generation OLED panel, but the S22 Ultra uses the older M11 generation, giving it an advantage in terms of screen technology. Though neither should be very different, they both become quite bright and have stunning hues.
14 Pro Max vs S22 Ultra Display Measurement
Although all panels have adjustable refresh rates between 1Hz and 120Hz, the iPhone makes the most of this capability thanks to its innovative Always On display function. Even if Android phones have had something similar for years and Apple may be playing catch up, Cupertino shows how it can be improved and makes older implementations, like the one on the S22 Ultra, seem… primitive!
The two devices also employ distinct biometrics: the Galaxy employs an ultrasonic fingerprint reader as its primary biometric security tool, while the iPhone uses Facial ID, a safe 3D face recognition technology. On the Samsung phone, you can also register your face, but that only utilizes conventional image-based identification, which is far easier to fake and is unquestionably less secure than a Face ID.
Remember that the Galaxy also includes an S Pen inside of it so you can swiftly take notes or sketch out ideas. Although it's a terrific tool for designers, artists, and people who just like using it, it's also available to individuals who don't actually need it.